Tauranga's Award-winning Painter & Decorator
Authentic Finishings Ltd is an award-winning Painting & Decorating company owned by Clifton George, servicing the Tauranga and Bay of Plenty area. Our Tauranga painters and decorators provide a complete range of interior and exterior paint services for both commercial premises and residential homes.
"Our Nationwide Master Painter of The Year Award"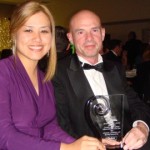 Authentic Finishings Ltd is proud to be the only Tauranga Master Painter to win the nationwide Dulux "Residential Dwelling – New Interior Under $25k" New Zealand Master Painter of the Year" award. This is a highly sought-after award in a very competitive category and I am very proud to have achieved this for myself and for the Tauranga Master Painters in the Bay of Plenty. This prestigious annual award is only given to Master Painters who produce works of outstanding quality.
Paint Quality & Service Excellence
At Authentic Finishings, we understand that when you're painting your new home or decorating your existing home, nothing is more important to you than having reliable painters and decorators that you can trust. Our years of experience & professional approach have ensured that we have become an established and trusted name throughout the Bay of Plenty with a reputation for a courteous and professional service. Sometimes taking on that interior, exterior painting project yourself can be a daunting task. Let our passionate painting company transform your home or business to reflect your personality & client base to be proud for years to come. Our business values are to provide the same excellent quality of service to our business and residential customers alike, regardless of the size of the job.
Authentic Finishings Ltd has completed numerous Master Builder gold-winning show homes for private builders and building companies – and these homes that have featured in magazines like NZ Home and Garden and the like. Choosing painters can be very difficult as there are painting companies that say they can deliver the quality that you deserve only to find that they have destroyed the look of your lovely home.
Be assured that as your painter and decorator, we are registered master painters that only use good quality materials appropriate for the job, and that we will not skimp or take shortcuts to keep costs down. Our Company takes great pride on having a 100% non-return record due to poor workmanship since starting this painting business 15 years ago! As a consequence, Authentic Finishings Ltd has many very happy past clients and builders that can attest to paint quality & service excellence. You can be assured that the work is done right the first time, making your building project stress-free. There won't be any need to ask me to return and repaint something that does not look right!
Expertise & Experience
Our company has a total of 25 years in the painting industry; 15 years in painting & decorating and 10 years in the automotive paint industry. The 10 years automotive spraying background gives the ability to deliver a higher level of perfection in paint finishes when applied to business premises and house painting. That's an important edge over our competitors. (Cliff was also awarded Apprentice of the Year in his third year in the automotive painting industry.)
You can be assured that when you employ us, our painters and decorators will only be using good-quality materials appropriate for the job and that we will not skimp or take shortcuts to keep costs down!
Reliability & Trust
When you choose Authentic Finishing's Ltd we arrange a start date and your job is the only one we will be working on until it is completed. No dealing with painters that just come and go from your house one day to the next. We have the knowledge and expertise in all areas of spray painting, painting and decorating and cover all aspects of refurbishment and new building work. Whilst we can also recommend high quality gib stoppers and plasterers for your project, we will be more than happy to work with your choice of contractor.
We do not subcontract out our projects! Clifton George is the owner-operator of the company and is always on site to ensure only the best standards of work is applied to your home, as with all past clients. This is essential to the company's reputation. We understand that customer satisfaction and feedback is the crucial to the success of our business. That's why we always work hard to ensure that our customers receive the quality of service that continues to build on our hard-earned reputation. Authentic Finishings Ltd are registered Master Painters and is accredit with this association warranty & guarantees leaving you rest assured you will only receive the quality you deserve.
Thank you for taking the time to evaluate our proud Tauranga painting and decorating company. Please feel free to contact me via the Contact form or call me on 0275 947 448 (after hours 07 579 4536) with any questions that you have.