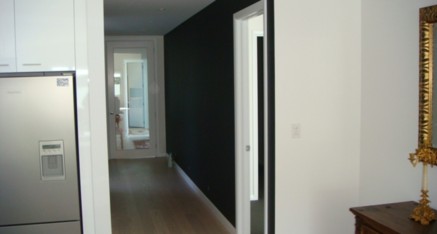 If you are moving into an existing house or having a new home built, a smart way to transform it from a plain house into a welcoming home is the application of a high-quality, colour-coordinated paint finish! Professionally applied interior painting generates a sense of warmth that reflects your personality. At the same time, you can incorporate striking features with delicate detail to create a visually appealing style.
Exterior house painting in selected colours and textures can greatly enhance the "street appeal" of your home in a way that adds significant value – to the envy of your neighbours! Using premium grade quality exterior paints is a must & will not only produce an outstanding finish but save you money in the long term. Many people make the mistake on cutting cost for exterior paint products only to result in extra cost in the short term. Maintenance is a most important factor in keeping your new paint work in pristine condition year after year. We will advise you on your best options for exterior paint maintenance to keep that new paintwork looking perfect!
Authentic Finishings Ltd residential painting projects deliver stunning results by infusing our client's vision with our profession expertise. We provide a unique and personalised service that will deliver the desired outcome. We also offer professional colour consultancy assistance to assist with colour schemes and décor selection.
Residential Painters & Decorators – Tauranga
We are based in Tauranga, but regularly carry out works in all surrounding areas, i.e. Mt Maunganui, Te Puke, Waihi, Katikati, and Matamata. We consider all other areas of the Bay of Plenty and Waikato at request.
So please, allow us the opportunity to help you transform your home, and be confident that you are dealing  with award-winning Dulux accredited Master Painters that offer a 5 Year painter's workmanship warranty! Contact us with confidence today!