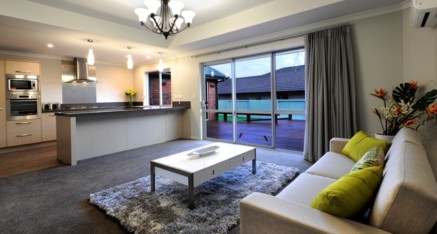 As Master Painters, every Tauranga residential painting & decorating job we do gives us an opportunity to exceed your expectations, both in the high standard of our work, and in the way we accomplish the task.
Residential Painting Projects: This is your home and your dream, one that you want to be proud of and have to look at and live in every day. Colour is the most effective way to re-invent your house to a home using modern colour schemes & the most cost effective way to increase value to any investment. We fully understand the need to minimize interruptions and get the job completed in good time, something which is critical for all of our clients.
What happens after we contact you about our painting & decorating needs
When you contact us we will arrange a suitable meeting time that suits. A prompt free quote will be arranged and sent with the option of post or email at your request. All quotes specify what type of painting products are to be used and to what areas. This will provide you with all the information you requested and need to make an informed decision with your painting & decorating project. A start date will be arranged on acceptance of quote and update frequently if any time stages are to change prior to your decorating project.
Eco friendly paints and your options
Do you suffer from allergies or don't like chemicals and the smell of paint.
Then low allergen eco friendly VOC paints may be the answer for you and your family with the added advantage of being great for the environment. The latest technology from Dulux & Resene has resulted in the raw materials created to emit minimal paint odour for allergy sufferers. These paint products have the added advantage of being ammonia free, improved stain replanted and also approved by the Asthma Foundation with many inspirational colours available.  If these products appeal to you please discuss these options and we can assist what Eco paints can best benefit you and your family.
Commercial Painting Projects: In special cases, we can even arrange to work outside your trading hours, allowing your project to continue unhindered throughout the completion. Whatever your circumstances, we will always try to fit around your specific requirements and complete the job within a realistic timeframe. We use between one and three members of staff on a project, and each of them has the same dedication to the project at hand. We are courteous and understanding of your needs and strive to cause minimum disruption and keep the workplace tidy on existing homes.
We service all types of Residential:
Exterior / Interior painting
Property sale make over's
Repainting Roofs
Rentals
Apartments
Texture repainting & repairs
Wallpapering & removal
Specialist in Airless Spraying
Removal of Graffiti
Fencing & Balustrades
Consultancy with colours
Weatherboard & James Hardie Linea Board
Gib Stopping repairs
 We cover all aspects of painting:
Walls
Ceilings
Bathrooms
Kitchens
Bedrooms
Lounges
Dining rooms
Offices
Sleep outs
Garages / Workshops
Woodwork including
Door frames
Window frames
Doors
Choosing your Colours
We can help you to choose colour schemes for your home. If the colour you want is not available in a chart we can take a sample colour & have it mixed to the colour you want with the latest spectrum colour matching machines available. Please take advantage of the Dulux & Resense websites and stores as both companies will be more than happy to help you with your colour scheme. I will be more than happy to fine-tune your choices of colours to get the results you are trying to achieve. We specify in using Dulux and Resene products, but are happy to compromise and use the brand of your choice.
Existing Interiors & Exteriors
All existing work furnishings, floorings and plants will be moved or covered with clean drop sheets and plastic drop sheets then returned to their origin place of origin. All hardware and fittings will be removed or properly protected, ensuring these areas are kept free from dust and paint spots. Living & utility areas will be returned and cleaned to the owners specifications at the end of each working day to minimize the effects of your day to day living making your renovation project stress free as possible.  Our professional decorating staff will always ensure your family, pets, valuables, privacy, security and home are treated with the utmost respect. Our company will be more than happy to follow any special security measures you would like us to undertake upon leaving at the end of our working day.
The life expectancy of your fresh new paint work is only going the last with thorough pre-painting preparation.
Surface preparation is of paramount importance and includes wallpaper stripping, removal of peeling and bubbling paint by electric heat gun, scraping back peeling areas then machine sanding all areas appropriate. Then, using fillers and sanding all surfaces to ensure correct adhesion. All surfaces will then be brushed down or compress air to remove any dust and gap filled follow with the appropriate sealers follow by premium grade paint top coats. The paintwork will be cleaned with sugar soap prior where necessary to remove all grease, grime in existing homes.